It's that time of year again when our favourite apps get a festive makeover for the holiday season. You've likely seen quite a few apps receiving Christmas updates since late November, as our developers love to jump onto the Christmas bandwagon as soon as Thanksgiving has come to a close. Personally, I love seeing all the new holiday updates, waiting to see whether the characters in my games have just been given the generic "I'm now wearing a Santa hat" Christmas update or if the developers have been a little more creative with their changes.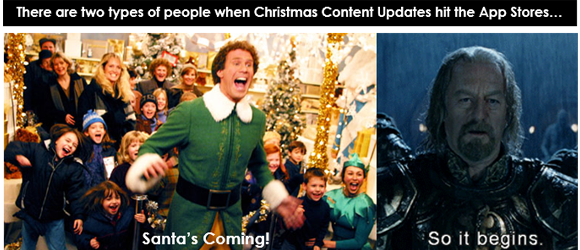 So, what's new for your favourite games?
If you're a fan of Halfbrick's Yes Chef! you'll be pleased to hear that not only will your loveable characters be donning Christmas attire, but you'll also have access to exclusive content, including gifts from Santa himself and the brand new Snowfall Level.
As you would expect, Electronic Arts have ensured that the Simpson family did not miss out on a fun content update for the holiday season, with The Simpsons: Tapped Out receiving their makeover from Thanksgiving to Christmas practically overnight! As you guide your characters on elvish challenges, you'll save the holiday season and ultimately learn the true meaning of Christmas spirit.
The team at Chillingo took the festiveness that one step further, releasing Cut the Rope: Holiday Gift, which sees players posing with Om Nom to create their own holiday greeting card to share with friends and family.
If you enjoy casual mobile gaming, it's more than likely that your favourite app has received a festive update – even Clash of Clans is getting in on the action by adding Christmas sound effects to the infamous game. Angry Birds, Doodle Jump and Subway Surfers have also received some cool Christmas updates, so whether you're an iOS or Android user, be sure to head to the App Store to discover what elvish updates await you!
Comments
comments