Brus Media is an affiliate network focused on performance-based advertising for Publishers and Advertisers of Mobile Applications. Whether you're looking to grow or monetize your Android, iPad or iPhone Application, our team will work to optimise your campaigns for the best performance. We've helped grow some of the largest apps in gaming, including Slotomania, Clash of Clans, Castle Clash and Candy Crush Saga.
Publishers
By having direct relationships with some of the leading apps in the market, we are able to offer higher CPI's than many other networks on some of the highest converting campaigns. Working with your dedicated account manager, you'll be able to test campaigns to find the highest performing for your audience, then sit back and count the revenue through our completely transparent dashboard. If you're looking for a solution to integrate advertising into your games, we've also developed an App Wall SDK which integrates simply with just a few lines of code and drives strong conversion rates while not interrupting users gameplay. See the example below and click here to find out more about the SDK.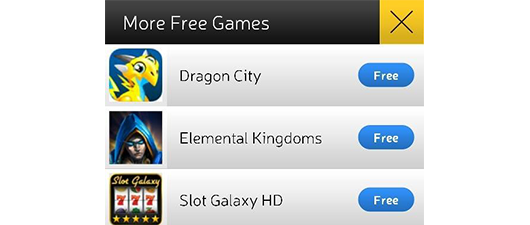 Mobile Advertisers
If you're looking to grow your mobile app with effective user acquisition strategies, then you've come to the right place. We've delivered millions of installs to iOS (iPhone & iPad) and Android applications for some of the largest apps in the industry. We can offer incentivised or non-incentivised campaigns depending on your goals and take the knowledge and learnings from our industry experience to help you grow and monetize your users.
For more information on advertising Contact Us