While gaming is generally all about having fun and winning in-game competitions, Pixelberry have released brand new content into their already popular iOS app "High School Story", which allows users to beat the bad guys in a whole new way. As modern technology continues to expand and grow, so does the horrible cyber bullying phenomenon. It's easy for kids to hear about cyber bullying from parents and teachers, and then just simply brush it off. By incorporating this issue into game play for "High School Story", however, it's hard for users to ignore – and quite frankly, it's great to see that Pixelberry is bringing something like this into the world of apps.
Tackling this topic via quests and various other content throughout the game, users interact with a character named "Hope" and help her to face her bullies. What's really great about the introduction of this sensitive topic into the iOS app world is that the team at Pixelberry have teamed up with cyber bullying charity The Cybersmile Foundation. The collaboration of these two amazing companies has lead to the game being created with realistic dialog for the interaction that occurs between characters, while still addressing the issue of cyber bullying on a whole new level.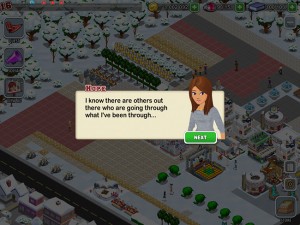 (Source: Pixelberry Studios)
With brand new content being added to iOS and Android Apps everyday, it's great to see that one company is also trying to make a difference in the world with their game. The team at Pixelberry have said that this one is close to home for many who have themselves experienced cyber bullying in the past. When interviewed by Inside Mobile Apps, Oliver Miao from Pixelberry opened up about their creative experience when introducing this new content, with one user contacting the in-game support feature to say that she was considering suicide after being confronted by the new content. The team went straight to a suicide prevention helpline and introduced the assistance from The Cybersmile Foundation. A week later, the girl told the team at Pixelberry that "she was finally getting help and that it was because of our game that she was still alive".
In my books, Pixelberry's latest content addition to "High School Story" is already a success by saving just one life – imagine what's next for the world of Mobile Applications if everyone can take a leaf out of this book.
Comments
comments